2019 Mercedes-Benz A-Class: All the class in a compact package.
June 07 2018, Mercedes-Benz de Québec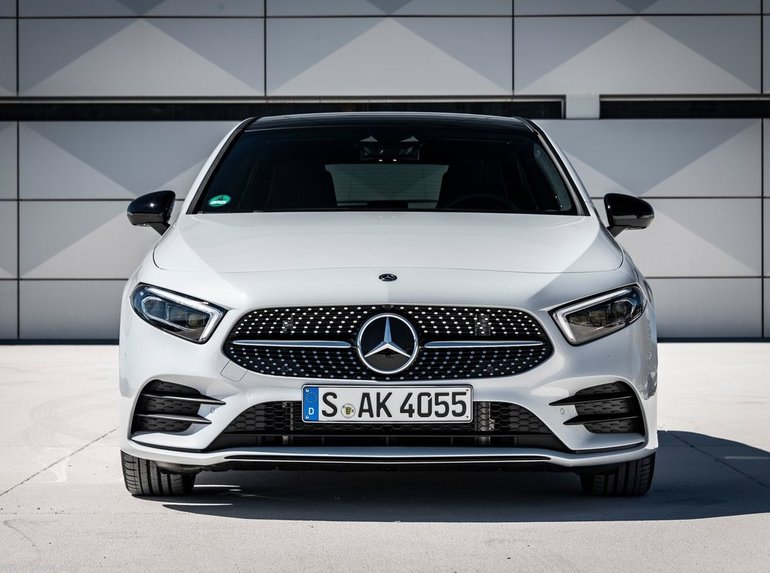 A self-respecting carmaker will never compromise quality in the name of making more money. Mercedes-Benz has built its name and reputation over a 125-year period and they're not about to start cutting corners now.
The arrival of an all-new entry-level Mercedes-Benz can only mean that the car will be exceptional, much like the remainder of the line-up however only in a smaller package and at a more affordable price. Arriving at the end of 2018, the new Mercedes-Benz A-Class will turn heads wherever it goes.
Compact modern luxury.
The new A-Class proudly adorns the brand's latest "shark-nose" front graphic, shared in all but size with the all-new 2019 CLS. The car's sheet metal is clean yet bold and distinctly Mercedes-Benz. Be it in 4-door sedan and 5-door hatchback guise, the A-Class projects a sporty and youthful demeanor.
The car's compact exterior dimensions hide an otherwise roomy and comfortable cabin. There is room for five occupants and in the hatchback, the boot will hold up to 370 litres of gear with relative ease. Taking a closer look inside the cabin reveals materials and styling not unlike what can be found in the E Class or CLS. The optional Sport package will include sporty integral seating for those who prefer to be held snugly in place while driving.
Where technology and infotainment are concerned, the new 2019 Mercedes-Benz A-Class takes the experience to the next level with its Mercedes-Benz's User Experience, or MBUX. It's accessed through a pair of 7-inch or optional 10.25-inch displays via voice commands or vehicle controls. This unique multimedia system includes artificial intelligence. It enables a learning function and adapts to the user's preferences. Smartphone integration, with Apple CarPlay and Android Auto will also be available.
Efficient and powerful.
The A 250 will be powered by a turbocharged 2.0-litre 4-cylinder engine mated to a standard 7G-DCT dual clutch transmission. With 221-horsepower and 258 lb.-ft. of torque on tap, the FWD version will reach 100 km/h in only 6.2 seconds. 4MATIC all-wheel drive will be option.
Despite this 2019 Mercedes-Benz A 250 being a gateway car to the brand, refinement will not be overlooked. The fully independent McPherson front and sophisticated four-link rear suspension setup will provide agility and comfort. Drive modes, through DYNAMIC SELECT, will increase both efficiency and fun quotients at the flick of a switch.